Inspired by the herbal remedies from the apothecary world, Honey Spirits Co Apoteca gin fuses the highest quality ingredients foraged from Lithuania and Derbyshire with bee honey to create a smooth and refreshing gin.
If you fancy winning a bottle for yourself, head over to our Competitions Page before 26th May 2020.
A Little Bit of Background
Honey Spirits Co officially started out life in 2017, with a small family team based out of their distillery in the small English village of Flagg, in the Peak District.
The team aimed to launch a range of products celebrating British and Lithuanian cultures, which included a range of spirits and meads using honey or bee based ingredients, along with botanicals foraged in Lithuania and the UK.
Their first gin offering was the Apoteca Gin, which was inspired by herbal remedies medieval apothecaries would prescribe to their patients. Today, Honey Spirits Co has a wide range of modern flavoured gins including elderberry, raspberry, sherry cask, blackberry, horseradish, and a Christmas spice.
Botanicals
Bee Bread
Propoils
Sea Buckthorn
Juniper
Blackcurrent Leaves
Mint
Chamomile
Cinnamon
Dill Seed
Fireweed
Lady's Mantle
Linden Blossom
Marigold Blossom
Oak Bark
Orange Peel
Wormwood
Red Clover
Rosehip
St. John's Wort
White Mulberry Leaves
Wild Blueberry
Nettle
The Bottle
Honey Spirits Co borrow elements from the herbal and apothecary world, so it shouldn't be a surprise that their bottles resemble that of traditional medicine containers, including a folded over opening and cork stopper.
The bottle uses robust, high quality glass and feels solid enough in the hand.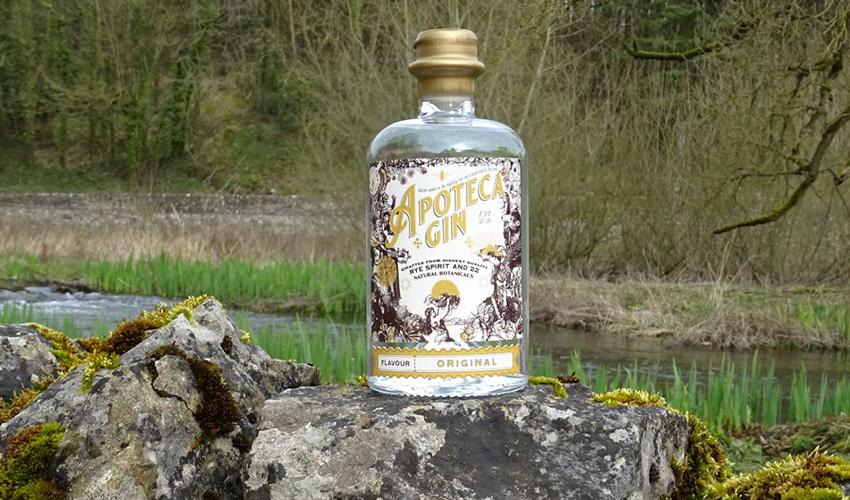 The Gin
On the Nose
Apoteca gin is smooth, light, herbal on the nose, with a dry tannic finish.
Straight
Drinkers can taste all 22 of the botanicals, without any one overpowering the other, leaving drinkers with a delightfully flavoursome gin.
With Mixer
The Apoteca gin offers a modern taste, which is lighter on the juniper, allowing the other botanicals to all show off and be noticed.
Mixing with a refreshing tonic helps drinkers enjoy a herbal, smooth base that includes a honey flavour and aroma without any sweetness.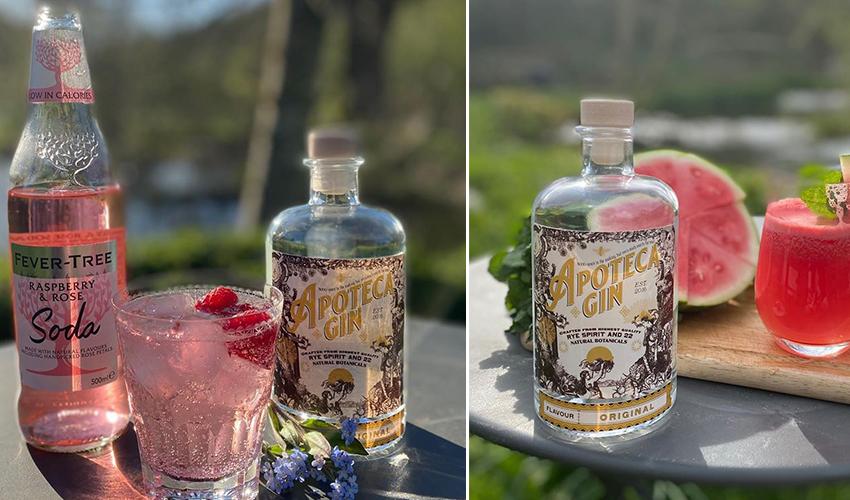 The Perfect Serve
Pair the Apoteca gin with a Fever-Tree tonic, fresh thyme, slices of orange, lemon, lime, and ice.
Lasting Impressions
For gin purists and non-traditional gin lovers alike, the Apoteca gin can ignite everyone's gin fires. Combining medieval inspiration with all-natural, honey and herbal ingredients, the Honey Spirit Co's original offering couldn't be more perfect for those in search of a silky smooth gin drink.
Apoteca Gin (43% ABV) is available to buy from Gin Kin Shop for £30 (50cl).