Hot summer days evoke memories of childhood, running around and being cooled down by ice slushies. Now it's time for the adults to have a bit of fun.
Watermelon gin cocktails are essential summer drinking so thank heavens for this recipe for a Frozen Watermelon Gin and Tonic Slush, created by Simply Delicious – aka Alida Ryder – a food and drink cookbook author and blogger who creates and shares some awesome recipes.
Naturally anything with gin catches our eye, but this gin slush is something a bit special. Watermelon comprises of mainly water so it's fantastic for hydration. Add frozen watermelon to the refreshing properties of a G&T and you've got a summer drink of dreams.
This lush slush not only looks the part but it tastes fantastic – those traditional G&T flavours mixing perfectly with the fruity sweetness of the watermelon.
This recipe makes six servings. The question is, will you want to share it?
Frozen Watermelon Gin and Tonic Slush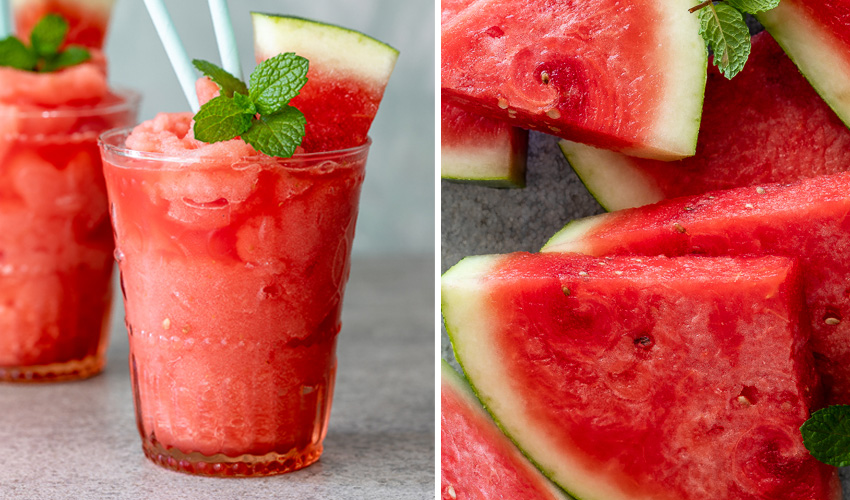 Recipe by Alida Ryder
Ingredients:
6 cups frozen watermelon cubes
1 cup gin
500ml tonic water
2-3 tbsp lemon juice
Fresh mint and watermelon wedges to serve.
Method:
To freeze the watermelon: Carefully slice the skin off the watermelon then cube the flesh. Place the cubes in an even layer on a freezer-proof tray and place in the freezer until frozen.
To make the frozen gin and tonic, place the frozen watermelon, gin, tonic water and lemon juice in a blender and blend until smooth.
Pour into glasses and serve with fresh mint and a watermelon wedge.