If you had to pick two flavours to represent summer, they may well be rhubarb and strawberry. We already have rhubarb gin and strawberry gin, so thank goodness someone has decided to the flavours together in one gin.
Following a successful launch in the US, Boodles British Gin has joined the ever expanding pink gin category with its release of Rhubarb & Strawberry Gin in the UK.
The refreshing pink gin is a mingling of the best of Britain's quintessential summer flavours alongside Boodles' signature blend of botanicals.
A modern take on a British tradition, the fragrant pink gin is made by infusing Boodles London Dry Gin with the taste of spring-crop garden rhubarb and fresh, juicy strawberries. The result is a pink gin with a sweet and tart fruity flavour.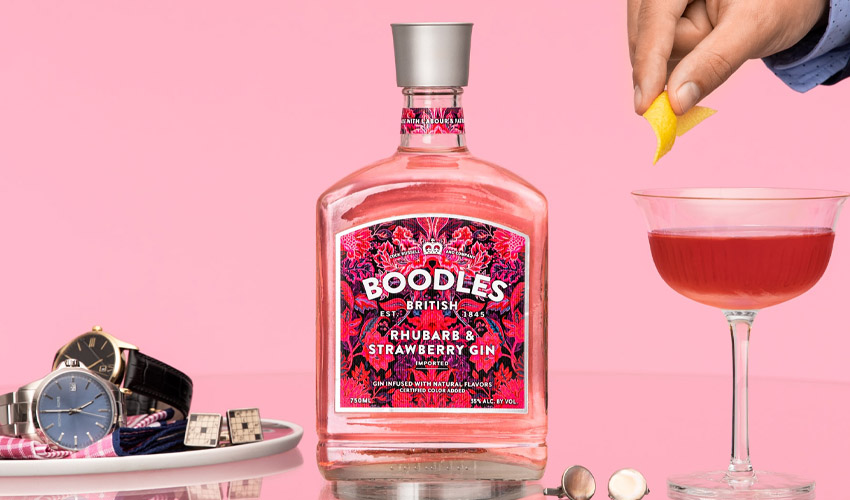 Boodles Rhubarb & Strawberry Gin is a flavour-forward gin, perfect to share with wine lovers and cocktail enthusiasts alike who appreciate light, refreshing spirits.
The flavour is represented by its vivid hue, perfect to add a splash of colour to an Instagrammable Gin & Tonic or enjoyed in a variety of summer cocktails.
We reckon this will be perfect for summer cocktails so why not try making a Rhuby Fizz? Simply combine 30ml Rhubarb & Strawberry Gin with 8ml lemon juice and 8ml simple syrup in a cocktail shaker with ice.
Shake well and strain into a chilled champagne flute or coupe and gently top with champagne. Garnish with a rhubarb candy spiral and you've got a gin and fizz cocktail that really looks the part.
Boodles Rhubarb & Strawberry Gin is available to buy from Master of Malt.