Bright and fresh, Jaisalmer Indian Craft Gin will surprise you with its fragrant and citrus flavour. 
A Little Bit of Background
Created by Master Distiller Anup Barik, Jaisalmer takes its name from the historic city of the same name, located in the North West of India.
Essentially, this gin is the essence of the "Golden City," with both branding and flavour reflecting the cultural and regal history of India.
The gin's recipe itself is derived from the ancient Indian knowledge of herbs, with seven of the eleven botanicals actually sourced from India itself.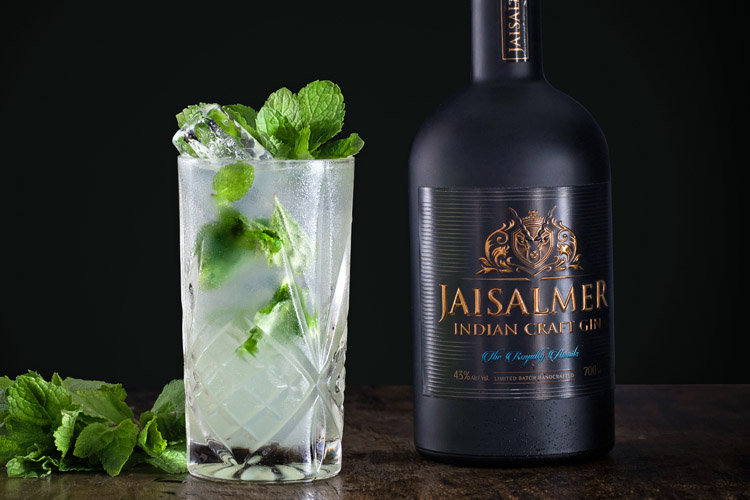 The Bottle
Presented in a chic, frosted black bottle with touches of raised gold on the label, Jaisalmer certainly reflects royal heritage and the golden colour of the Jaisalmer Fort in India.
It feels sturdy, smooth and luxurious in the hand and the details are delightful. The regal gold logo and lettering is further enhanced by the presence of a black buck and the golden fort framed by traditional Rajasthani decorative motifs.
Botanicals
Coriander
Vetiver
Orange peel
Cubeb Berries
Lemongrass
Darjeeling green tea leaves
Lemon peel
Angelica Root
Liquorice
Caraway seeds
Juniper berries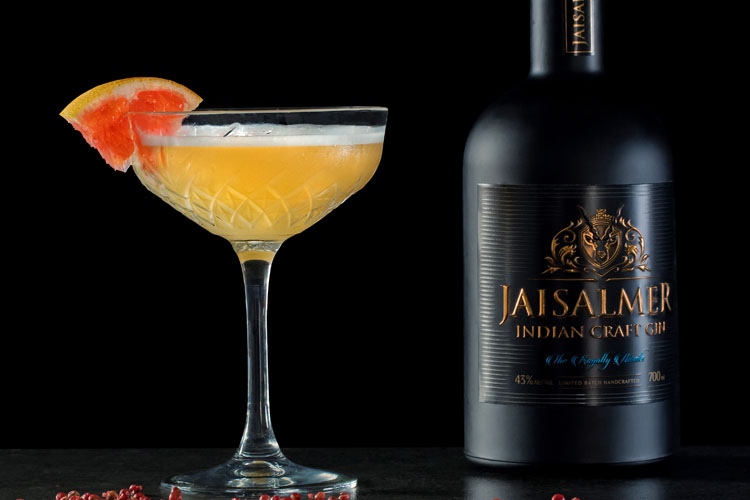 The Gin
On the Nose:
On the nose, Jaisalmer is immediately bright and fresh, with a delicate bouquet of juniper and citrus emerging from the bottle.
Straight:
Sipped neat, expect earthy notes from the angelica root and liquorice, adding a welcome dimension to the fragrant citrus. There's also a gentle heat here from the cubeb pepper and juniper.
With Mixer:
Once a mixer is added, you might expect a bit more bite to come to the fore from the coriander and the cubeb. After all, India is renowned for its spice.
The branding and heritage may lead some to expect a style closer to Opihr Gin, when actually the gin is much fresher and much more citrus-based then you'd imagine.
Lemon and orange peel works beautifully with lemongrass and vetiver and the overall taste is bright and zesty.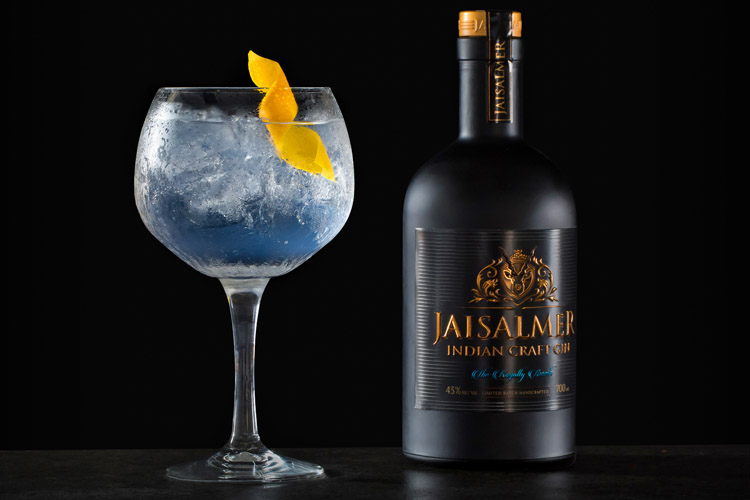 Signature Serve
Pour 35ml Jaisalmer Indian Craft Gin into a copa glass filled with fresh ice.  Top with Fever-Tree Indian Tonic Water and garnish with orange peel.
Lasting impressions
Bright and fresh, Jaisalmer Indian Craft Gin will surprise you with its fragrant and citrus flavour. For those looking
Jaisalmer Indian Craft Gin is available now from The Whisky Exchange.