Crofters Tears Gin is a fantastic, classic gin with notes of juniper, citrus and heather.
A Little Bit of Background
Crofter's Tears is a London Dry from the Ice & Fire distillery in Cathness, Scotland. The hero local botanical, purple heather tips, are picked almost on the doorstep of the distillery.
These only bloom in July and August and are carefully handpicked by the team and blended with juniper and a range of botanicals including cassia bark and cubeb to give a wonderfully deep traditional gin.
Botanicals
Juniper
Coriander
Cardamom
Orange peel
Cubeb
Cassia
Orris root
Lime peel
Purple heather
The Bottle
The Crofters Tears bottle is gorgeous. First of all, I love the ombre bottle colour. The purple base fading up into clear glass is super classy.
Secondly, the glass itself is embossed with a Celtic design. This, coupled with the silver, Celtic designed stopper really evokes a Scottish feel.
The bottle's label features a lovely image of a proud stag in a mountain setting, which further contributes to the Scottish feel of this bottle.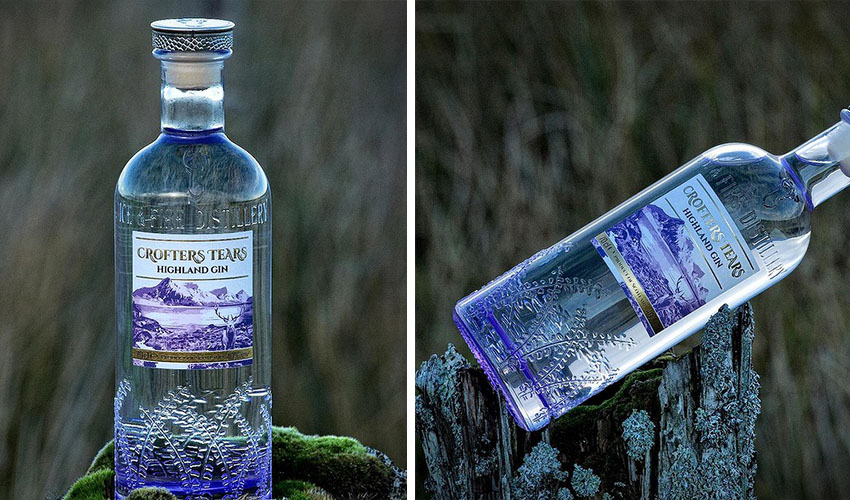 Perfect Serve
Ingredients:
50ml Crofters Tears Gin
150ml Fever Tree Mediterranean Tonic
Handful of Ice
Method:
Garnish with a bramble and a twist of lime
The Gin
On the Nose
You know when you open a bottle of gin and the smell make you go "ooooh" that it's going to be a good. Crofters Tears smells wonderfully rich and fruity.
Sweet citrus peel is joined by punchy juniper to create a delightful and enticing scent. Subtle floral notes from the heather also come through on the finish.
Straight
Sipped neat, you can really taste the balance of botanicals. Piney juniper muddles with fragrant, spicy notes from the cardamom and coriander.
These punchy flavours are balanced by delicate heather and a citrus zing. In short, this is a beautifully complex and well-balanced gin.
With Mixer
This makes a fantastic G&T, with a twist of lime and a bramble to garnish. However, it's also amazing as a cocktail.
I was feeling fancy so I used the garnish as inspiration to whip up my take on a Bramble cocktail, made with lime juice, Chambord liqueur, sugar syrup, fresh brambles and Crofters Tears Gin.
Honestly, this was one of the most delicious drinks I've had in a while and more that satisfied my cocktail craving.
I also tried this in a Coco Chanel cocktail, made from a 1:1:1 ratio of gin, coffee liqueur and cream. Again, a dangerously delicious way to drink this gin.
Lasting Impressions
In conclusion, Crofters Tears is a fantastic London Dry gin that will please gin experts and gin novices alike. It's a well-balanced and versatile gin, that makes an amazing G&T but is equally great in a cocktail.
Crofters Tears is available on Gin Kin Shop for £38.