Few cocktails say 'sexy' quite like the Pornstar Martini does. This fun and evocative drink is one of the UK's most popular cocktails, originally invented by cocktail writer and founder of the (now closed) LAB and Townhouse bars in London, Douglas Ankrah.
Created as a way to get his clientele out of their comfort zone by ordering something bold and cheeky, he considered the combination of passion fruit and a vanilla-flavoured spirit a match made in heaven.
Ankrah's original recipe consisted of vanilla vodka, passion fruit liqueur and passion fruit purée, shaken and served up with a sidecar shot of Champagne. Yet, the popular tipple can actually be created with a vanilla-based gin instead.
In fact, according to Sir Edmond Gin, a Bourbon vanilla infused gin can give a warm length to your Pornstar Martini which keeps you sipping…
So how do you go about making the perfect Pornstar Martini at home? It's time for a gin-based update on a true classic.
Pornstar Martini Recipe, with Sir Edmond Gin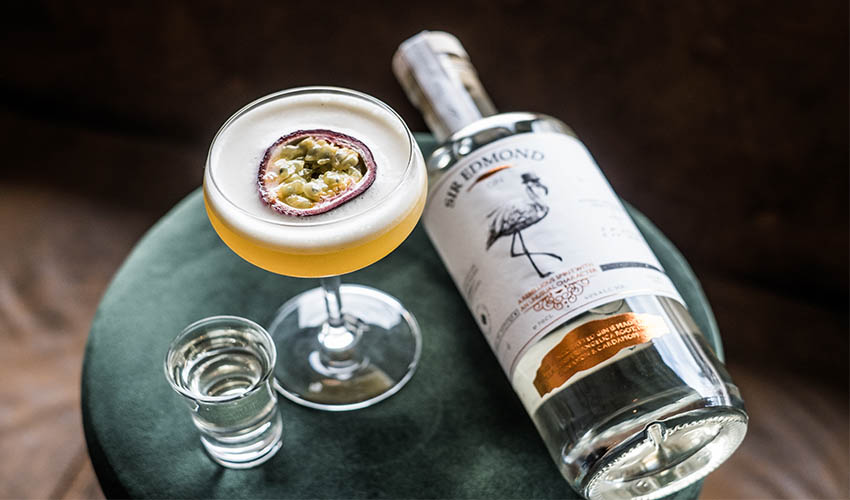 Ingredients:
45ml Sir Edmond Gin
15ml Passoã or De Kuyper passion fruit liqueur
60ml Passion fruit purée
Vanilla sugar
Champagne (on the side)
Method:
Cool your Martini glass
Pour 45ml of Sir Edmond Gin into a shaker
Add 15ml of Passoã or De Kuyper passion fruit liqueur
Add 60ml of passion fruit purée
Sprinkle 2 barspoons of vanilla sugar on top
Shake, pour into cooled Martini glass and garnish with half a passion fruit
Don't forget the sidecar of Champagne (intended to alternate with the cocktail as a palate cleanser)