One thing gin lovers can all agree on is that we have missed sitting in beautiful gin gardens with a refreshing G&T this summer.
Well, now it seems like our patience is finally paying off as venues gradually open their doors to the beautiful spaces that would ordinarily serve gin in the sunshine.
And there aren't many more beautful locations than the Silent Pool Gin Garden, situated in Barnett Hill Country House Hotel in Guildford.
Barnett Hill is a Queen Anne-style boutique hotel in the Surrey Hills; the stunning gardens surrounding a beautiful gingerbread-brick palace of a building.
It sounds like the very definition of the quintessential British gin drinking experience.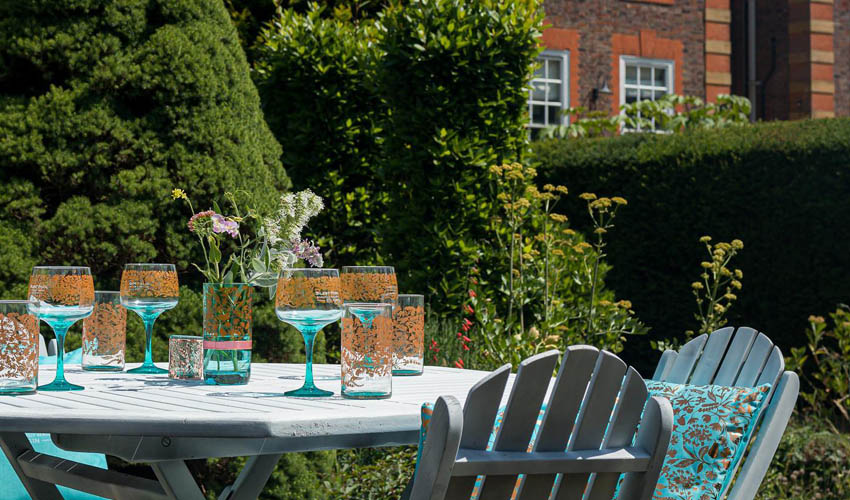 Included in the experience is everything you'd expect in a traditional afternoon tea washed down with three distinctively floral Silent Pool gin cocktails.
You can sip along with the expert tasting notes from the gin-spirational Silent Pool Gin team, enjoying the delicious pairings or take them as you fancy. If you're not the designated driver you'll find a Silent Pool Gin bar on the terrace of the Wendy House for a few more.
And all this is decorated with the stunning intricate gold and blue patterned Silent Pool cushions and glassware.
The Silent Pool Gin Garden will be serving afternoon G&Tea daily 3-5pm from now until 30 September, £50 per person. Book online here.