A citrus forward spirit with a concentrated orange, tangy hit, Shetland Reel Simmer Gin could be your next perfect serve.  
A Little Background
Shetland Reel is a distillery based on the Scottish island of Unst, one of the Shetland Islands. It's one of the northernmost Scottish islands with a population of just 632.
Distilled and bottled on the island, this is Shetland Reel's special summer edition gin inspired by the spectacular sunsets in Shetland.
Simmer Gin has won mutiple awards, including a silver medal at the International Wine and Spirits Competition 2017, along with another silver at the San Francisco World Spirits Competition 2017.
Botanicals
Juniper
Angelica
Coriander
Orange peel
Caraway seeds
Liquorice root
Fennel seeds
Almond powder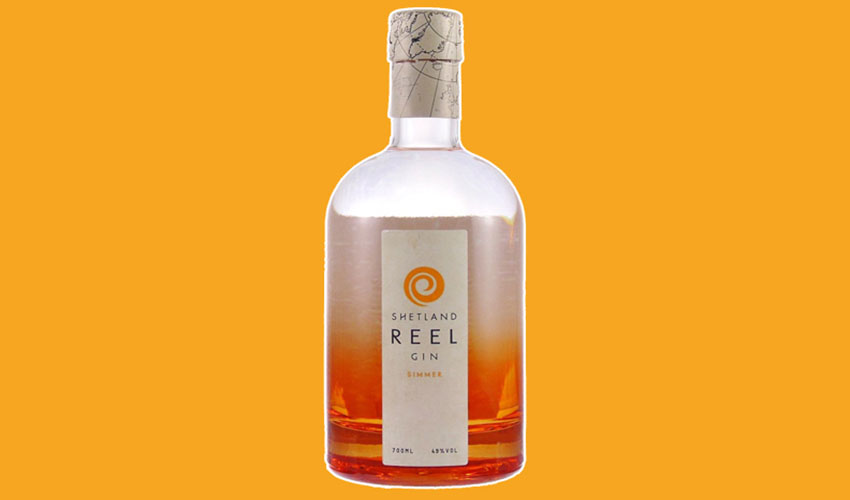 The Bottle
The 'simmer' in Simmer Gin refers to the longest day in Shetland: Simmer Dim.
This expression is reflective of the spectacular summer sunsets in Shetland. The bottle is said to evoke the magical time when the sun barely falls down the horizon, making twilight seem "like an endless day."
It sounds pretty breathtaking, and looking at the bottle, we can imagine the resemblance. Pictures of the bottle just don't do it justice. The graduation from burnt orange to rich amber is remarkable. The bottle itself is quite heavy and consequential.
The Gin
On the Nose
This is serving us all of the orange: expect a potent — and rather lovely — blast of orangeness upfront. The nose opens with (surprise!) sweet orange and a strong presence of juniper.
Straight
This is indeed a citrus forward spirit with a concentrated orange, tangy hit.
Simmer Gin is perhaps not the easiest to sip neat or on the rocks. It's spicy and chest-warmingly hot — you will feel the burn of every percentage of its 49% ABV.
With Mixer
Intensely orange and juniper forward gin with an unexpected heat and spiciness.
When mixed into a G&T, the initial citrus intensity is paired down, yet an unexpected hint of anise seed on the palate extends with a lingering, warm finish.
Its secondary earthy notes of liquorice are more present in a gin and tonic, which will be a great thing if you like gins like Electric Spirit Co's Achroous Gin.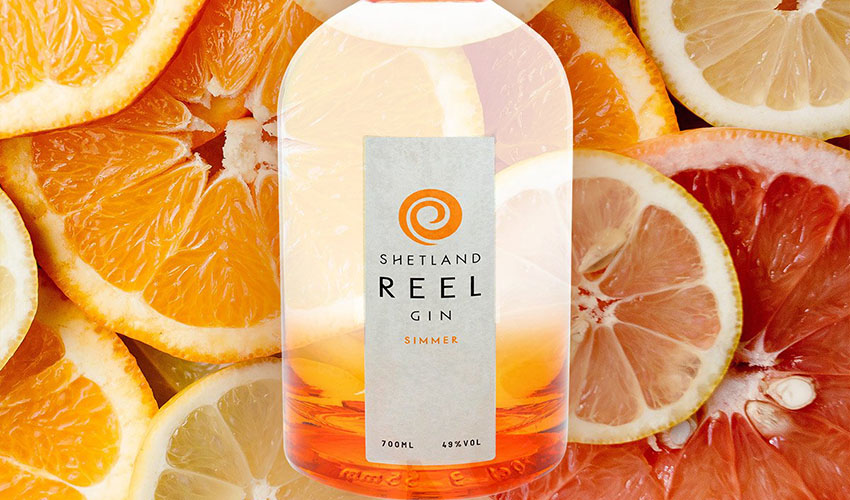 The Perfect Serve
Shetland Reel recommends the following G&T to really appreciate what Simmer Gin is all about:
50ml Simmer Gin
Fever-Tree Original Tonic
Slice of Orange
Sprig of Rosemary
Mix the gin and tonic, top with orange and rosemary; serve in rocks glass with plenty of ice.
Lasting Impressions
Shetland Reel have done a marvellous job concentrating the essence of an orange. But this is not just an orange gin — there's an earthy element here lending sophisticated depth.
To up the orange ante, Simmer Gin is the perfect candidate for generous orange wedge garnishes and dashes of orange bitters: super refreshing and great whatever the season.
Shetland Reel Simmer Gin (70cl, 49% ABV) is available from Gin Kin Shop.