Fresh herbs work well with most spirits but none more so than in gin as the ultimate companion to herbal gin cocktails.
Plants and herbs, or botanicals, are the very essence of gin and that's why adding fresh herbs can unlock some of the flavours contained in the botanicals already distilled in the gin.
It's not just flavour that makes herbs a great shout to be included in gin, they are known to have medicinal properties, so at a stretch we can tell ourselves we are making our cocktails more healthy.
Apart from all that, fresh herbs simply elevate the look of a cocktail to that next level. Fresh garnishes in your herbal gin cocktails are going to make them fresh and fabulous.
How to Make Herbal Gin Cocktails
Basil Gin Lemonade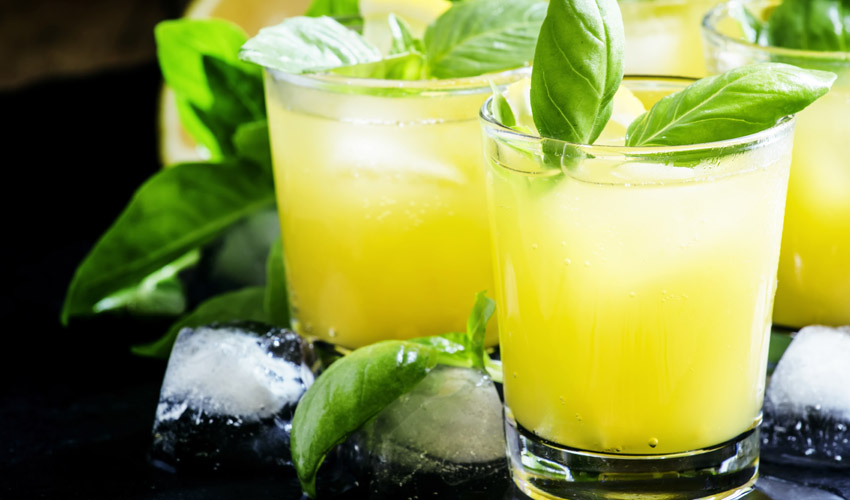 Basil is a staple of the cocktail world and herbal gin cocktails are no different. It's tasty, it's fresh and some say that clapping the basil in your hands before using it releases even more of that wonderful herbacious aroma.
We recommend Cambridge Dry Gin for this cocktail as it has basil in the botanicals which will nicely complement the fresh ingredients.
Ingredients:
Method:
Add the basil to a shaker and muddle well.
Add the gin, lemonade, and ice, and shake until well chilled.
Strain through a fine mesh sieve and garnish with a couple of basil leaves.
---
Rosemary Gin Fizz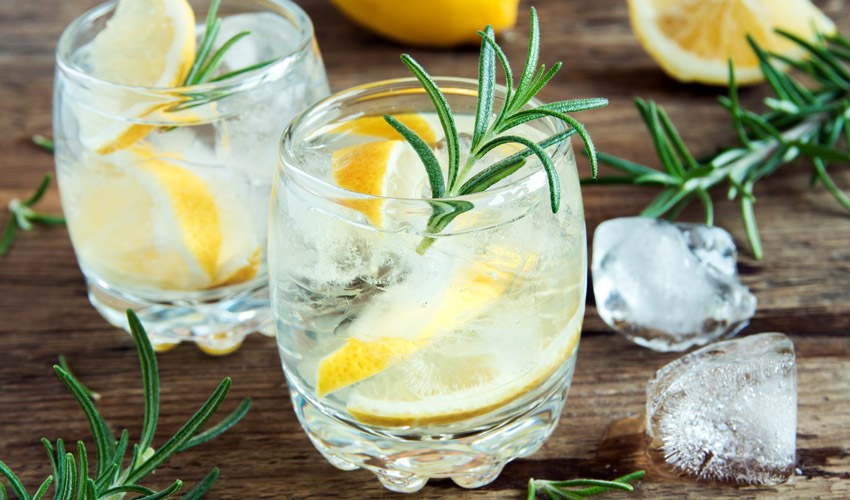 This is a herbal spin on a classic gin and soda cocktail. The addition of fresh rosemary in the simple syrup and garnish gives a bitter pine-like quality to the cocktail, paired perfectly with a lemon slice.
Gordon Castle Gin with fresh rosemary in its botanicals would be the ideal gin to use as a base.
Ingredients:
60ml gin (Gordon Castle Gin recommended)
1 tbsp fresh lemon juice
1 tbsp rosemary simple syrup (see below)
90ml club soda
Lemon slice
Rosemary sprig
Rosemary Simple Syrup:
1/2 cup sugar
1/2 cup water
1 rosemary sprig
Method:
Shake the gin, lemon juice and rosemary simple syrup in a cocktail shaker filled with ice.
Strain into a glass filled with ice and add club soda.
Garnish with a lemon slice and rosemary sprig.
---
Fresh Oregano Negroni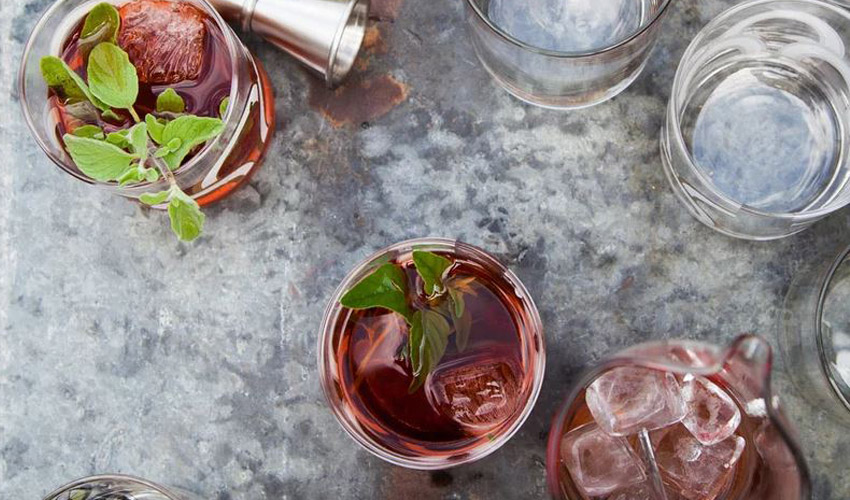 A twist on an absolute classic, chef Zakary Pelaccio uses fresh oregano as a garnish which warms up the cocktail, bringing some green, earthy, minty tones to the party.
Ingredients:
500ml Plymouth Gin
225ml sweet vermouth
225ml Campari
Ice
8 oregano sprigs
Method:
In a large pitcher, stir the gin, vermouth and Campari.
Pour into rocks glasses filled with ice.
Garnish with oregano sprigs.
---
Southside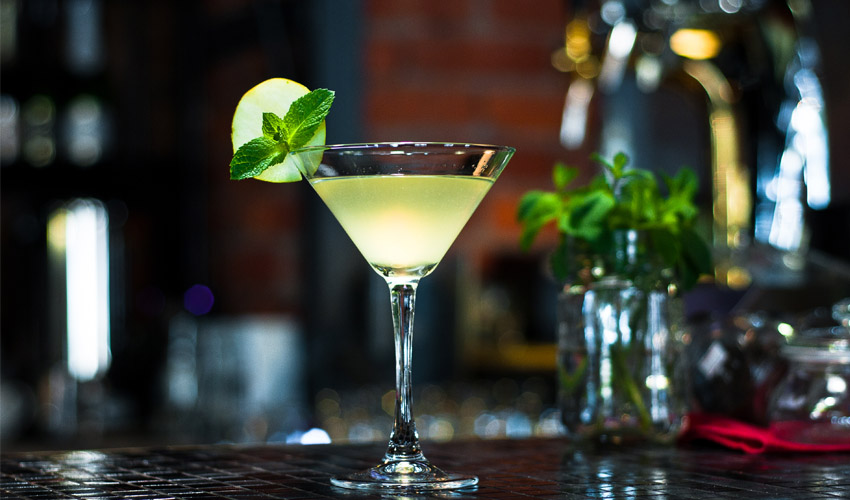 The bona-fide classic herbal gin cocktails keep on coming. The Southside relies on mint to provide a sweet, cooling effect, leaving a long, lingering fresh finish on the palate.
A gin with a slight spice to it such as Scuttled Gin will provide a bit of balance to the sweetness of the fresh ingredients.
Ingredients:
60ml Gin (Scuttled Gin recommended)
8 mint leaves
30ml fresh lime juice
15ml sugar syrup
Method:
Add the gin, mint, lime juice and sugar syrup to a shaker full of ice and shake well.
Strain finely into a Martini glass.
Garnish with mint sprig.
---
Thyme Gin Cocktail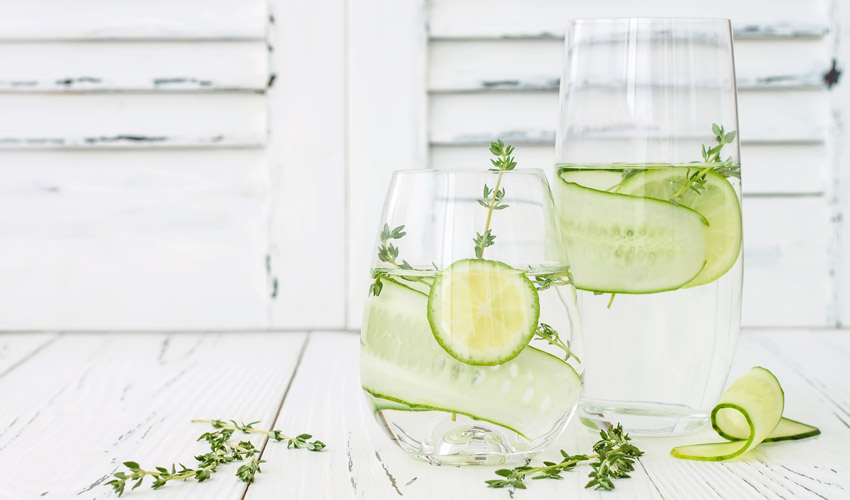 If you're feeling at all under weather then this is a herbal gin cocktail that could get you back on your feet again. Thyme, honey, ginger and lemon are all known for their medicinal properties.
Try The English Drinks Company's Lemon Grove Gin to bring out the citrus elements of this cocktail.
Ingredients:
45ml gin (Lemon Grove Gin recommended)
30ml thyme-infused honey (see below)
15ml lemon juice
30ml ginger beer
Ice
Pinch of sea salt (optional)
2 sprigs fresh thyme for garnish.
Thyme-infused Honey:
1/2 cup water
1/4 cup honey
5 sprigs fresh thyme
Method:
Put water in a saucepan and bring to a boil. Remove from heat, add the thyme, and let it steep for 15 minutes.
Remove the thyme sprigs and whisk in the honey.
Add 4 slices of cucumber, lemon juice, and thyme-infused honey into a shaker, and muddle.
Add gin, ice and a pinch of sea salt.
Shake vigorously, and strain into an ice-filled glass.
Top with the ginger beer, and garnish with cucumber slices and fresh thyme sprigs.