The recent upsurge in home baking has led to all sorts of weird and wonderful experimentation in the kitchen – some of which has involved gin.
One of the best gin-related baking crazes to emerge has been gin-infused cupcakes. Usually the most innocent of cakes, they have been given a boozy makeover and gin cupcakes are for adults only.
As much fun to make as they are to eat, get the gin out and have a go at creating some delicious boozy gin cupcakes.
Best Gin Cupcakes Recipes
Gin, Elderflower & Pear Cupcakes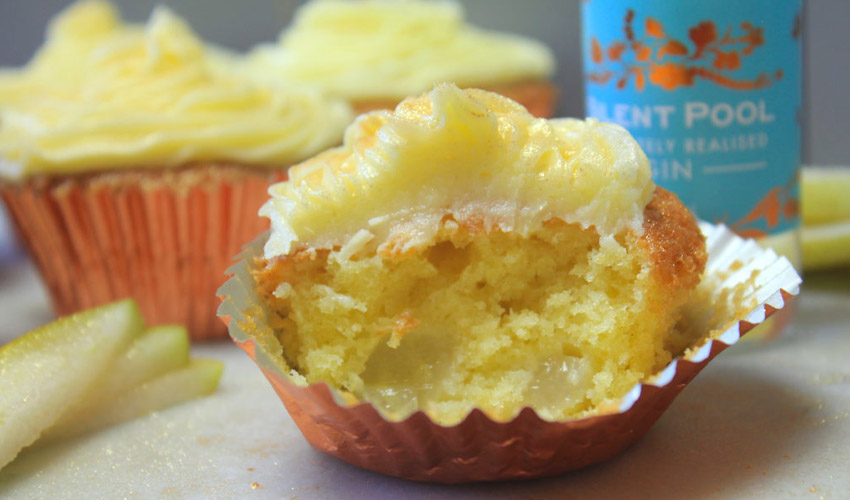 Recipe by Holly the Gintern from I Love Gin.
Ingredients:
Recipe makes 12 cakes
3 medium free range eggs (whisked)
150g caster sugar
150g unsalted butter
150g self raising flour
1/2 tsp baking powder
1 tbsp elderflower cordial
1-2 pears, peeled and finely chopped
Squeeze of lemon juice
For the Gin Frosting:
25-50ml gin (Silent Pool Gin is recommended)
150g unsalted butter
300g icing sugar
Edible gold glitter to spray on top
Method:
Preheat your oven to quite a low temperature, around 140 degrees and prepare a cupcake tin with 12 cupcake cases.
Cream butter and sugar together and then add the eggs, flour and baking powder. Mix until pale and creamy.
Add 1 tbsp elderflower cordial and stir in to the mixture.
Place a teaspoon of the mix in the bottom of each cupcake case, then add a spoonful of chopped pears. Cover each one with the remaining cake mixture.
Bake in the oven for about 25 minutes or a skewer comes out clean.
Make the buttercream. Whisk the butter until soft and then slowly add the icing sugar until it's creamy and smooth.
Time to add the gin. Do it a bit at a time and taste as you go. If you like a lot of gin you may need a little more icing to thicken it up.
Once your cakes are cooked, cool completely before piping on the buttercream frosting.
Decorate how you like. Edible gold glitter looks fab.
---
Rhubarb Gin and White Chocolate Cupcakes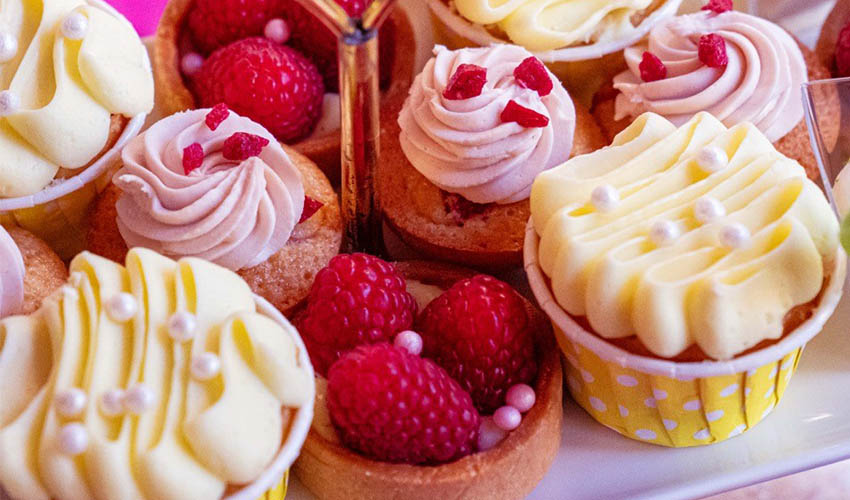 Recipe by Brigit's Bakery in partnership with Slingsby Gin.
Ingredients:
Recipe makes 30 cakes
For the Strawberry Whipped Ganache:
75g strawberry puree
250g liquid whipping cream
15g caster sugar
 20g Slingsby Rhubarb Gin
175g white chocolate
For the Sponge Cakes:
 310g caster sugar
240g white flour
240g whole eggs
4g baking powder
137g liquid whipping cream
75g melted butter
2g salt
70g Slingsby rhubarb gin
100 g fresh strawberries
Method:
In a bowl, mix the cream with caster sugar, whole eggs and salt.
Sift flour and baking powder and add it to step 1.

 

Add the melted butter (not hot butter) and the rhubarb gin.
Pipe around 30g of the sponge mix into a cupcake case.
Dice your strawberries and place one piece on the top of each cake.
Bake for 11/12 minutes at 160° C.
Leave at room temperature to cool down.
Finishing Off:
Put the strawberry ganache mix into a bowl of a stand mixer and whip using the whisk to obtain a smooth and firm texture.
Have your sponge cakes ready on a tray. Prepare a piping bag with a fluted piping nozzle.

 

Put the whipped ganache inside the bag and pipe a rosette on the top of your sponge cake.
You can finish off by adding a little piece of fresh strawberry.
---
Botanical Gin Cupcakes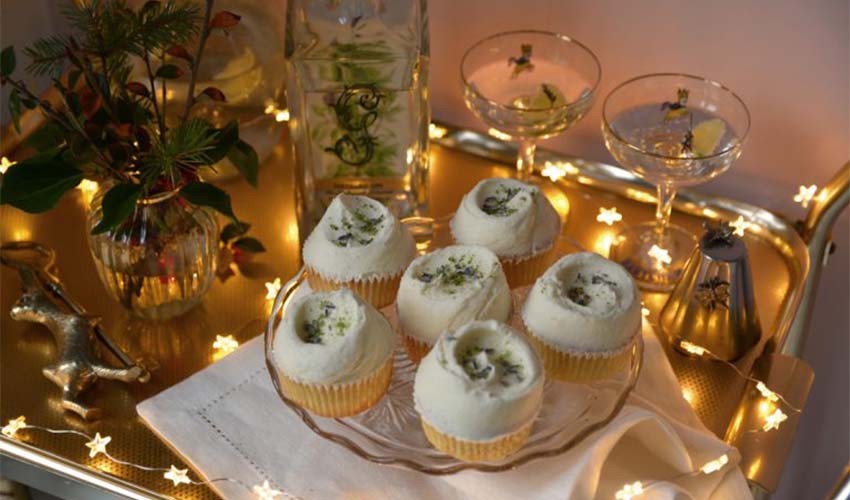 Recipe by Hollie Berries for Gordon Castle Gin.
Ingredients:
Recipe makes 6 cakes
310g caster sugar
240g plain flour
80g unsalted butter, softened
1 tablespoon baking powder
200ml milk
2 large eggs
Half a teaspoon of vanilla extract
100ml Gordon Castle Gin
1 lime, zest grated and juiced
For the Frosting:
500g icing sugar
160g unsalted butter
4 teaspoons Gordon Castle Gin
4 teaspoons milk
1 teaspoon lime juice
1 teaspoon lime zest
1 teaspoon dried lavender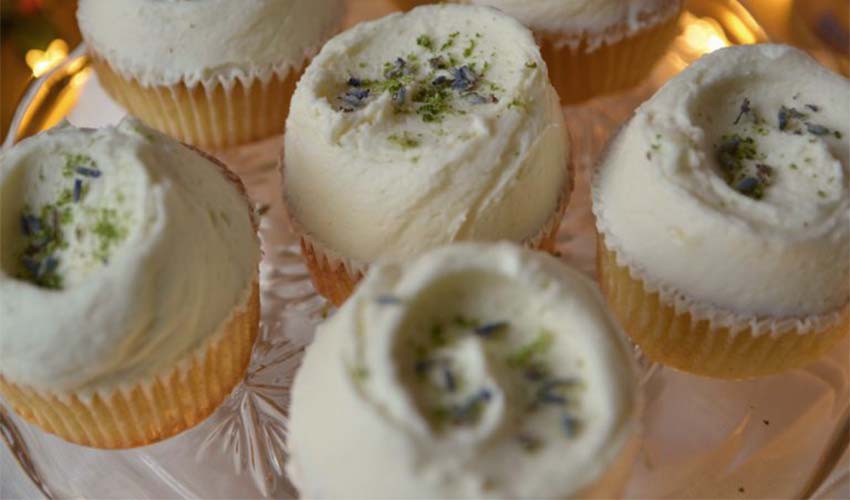 Method:
 Preheat the oven to 180 degrees and line a muffin tin with paper cases. Place 30g of the sugar and 100ml of gin in a saucepan and bring to the boil. Let simmer for around 5 mins then remove from the heat and set aside. In a freestanding electric mixer or with a whisk mix together the remaining sugar, butter, flour, baking powder and half of the lime zest until the mixture resembles fine breadcrumbs.
In a jug beat together the milk, eggs and vanilla. Slowly pour into the mixture whilst on a slow speed until everything is combined, then increase to medium speed until the mixture is smooth. Spoon the cake mixture into the cases, filling each about a third, then bake for 20mins until the tops are golden and springy.
Remove the cakes from the oven and whilst they are still warm carefully pour a teaspoonful of the gin and sugar syrup mixture over the top of each cupcake for it to soak into the sponge. Set aside to cool.
To make the frosting, mix together the icing sugar and butter until they reach a crumby consistency. Mix the milk and gin together with a teaspoon of fresh lime juice then slowly add into the icing mixture until smooth and fully incorporated.
Place a spoonful of icing onto each cupcake then swirl the frosting with a large pallet knife to ice. Complete with a sprinkling of the remaining lime zest and some dried lavender to decorate your botanical gin cupcakes. Wash down with a fresh Gordon Castle gin and lemonade garnished with a slice of lime and a sprig of dried lavender.