The joy of creating homemade gin is like that of any other creative pursuit – you get the satisfaction of seeing a project through that you've made yourself.
These recipes are a great starting point to becoming a home distiller – the process doesn't require any fancy distillation equipment.
Most of the time, all you need is a London Dry gin, the relevant ingredients to flavour and, in some cases, a little patience.
Whether you're a fan of fruity gin, something a little spicier or you have a sweet tooth, these homemade gin recipes have you covered.
Homemade London Dry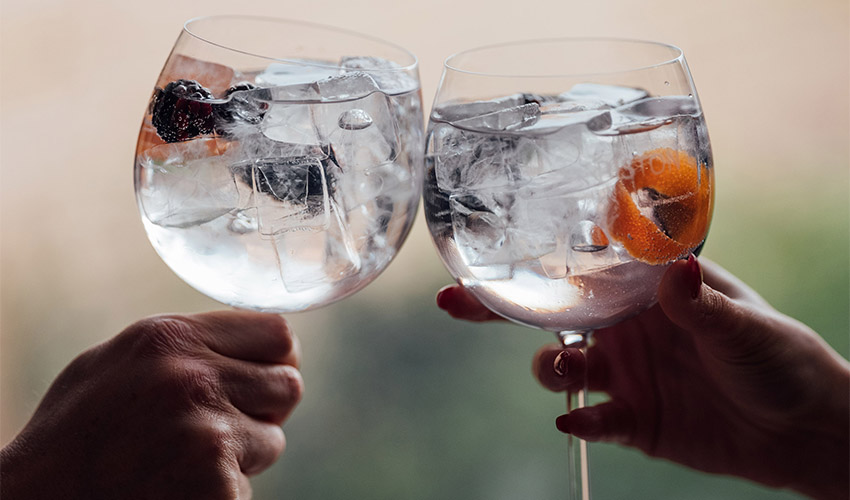 Ingredients:
70cl vodka
40g juniper berries
10g coriander seeds
1/2 cinnamon stick
1/2 liquorice root
2 cardamom pods
Orange and lemon peel
Method:
Sterilise 1 litre jar with boiling water and add 70cl vodka.
Add your botanicals –  40g juniper berries, 10g coriander seeds, 1/2 cinnamon stick , 1/2 liquorice root, 2 cardamom pods.
Infuse for 24 hours in a cool dark place. Have a taste — the juniper flavour should be developing.
Add 1 piece each of orange and lemon peel with the bitter pith removed.
Infuse for 24 hours. Shake once. Don't over infuse.
 Taste again. If you like it, sieve out the botanicals and strain through a coffee filter.
Develop in the jar for 2 days. Filter again and you should have a lovely amber gin.
To finish, simply add your tonic and garnish. It's gin o'clock!
---
Homemade Rhubarb Gin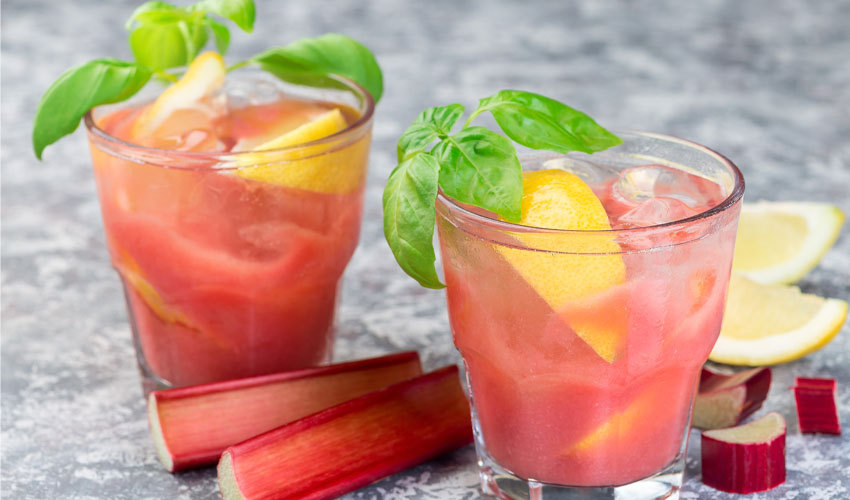 Although rhubarb is a vegetable, it is often used in the same ways as fruit. It's most commonly cooked with sugar and used in desserts such as pies, crumbles or made into refreshing compotes, but we believe it's best in homemade gin.
Ingredients:
300g rhubarb
200g caster sugar
500ml gin
Method:
Trim, wash and chop the rhubarb into fine pieces and place in a sterilised jar.
Add the gin and sugar to the jar, close the lid and give it a good shake.
Leave the jar in a cool, dark place for 3 days, giving it a shake every day to dissolve the sugar.
Strain the gin through a muslin cloth into a sterilised bottle. The gin is best consumed within a month.
(You can also use 1kg rhubarb, 400g caster sugar, and 800ml gin for a bigger batch)
---
Homemade Strawberry Gin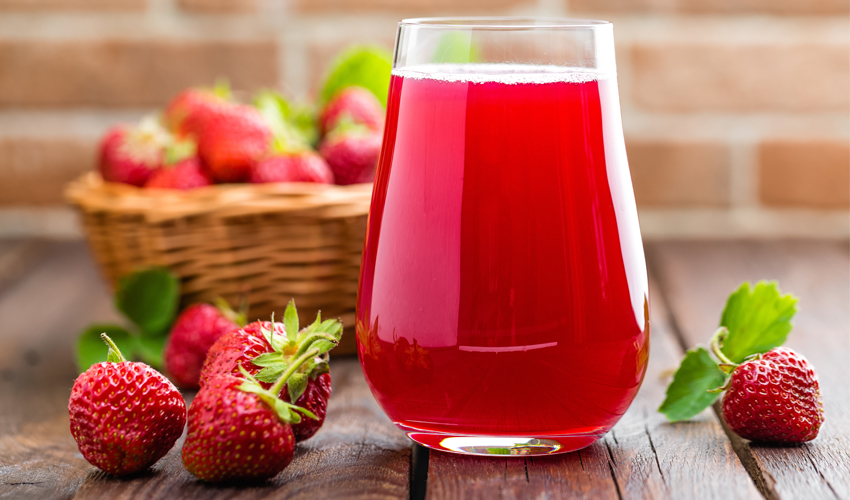 Fresh strawberries will work best in this recipe so if you are lucky enough to have some in your garden or are close to a strawberry picking farm the end result will feel even more personal.
When it's ready, strawberry gin will be perfect for summer cocktails but it's also also sweet and tasty enough to drink neat over ice.
Ingredients:
70cl London Dry Gin
400g strawberries, topped and sliced
125g caster sugar
Method:
Tip the chopped strawberries and sugar into a large bowl, coating the strawberries.
Add the gin, mix well and pour into a 1 litre sterilised bottle.
Store in the fridge or a cool, dark place and stir every few days for 2/3 weeks until colour is a deep red.
Strain into glasses when ready for a smooth serve.
---
Homemade Raspberry Gin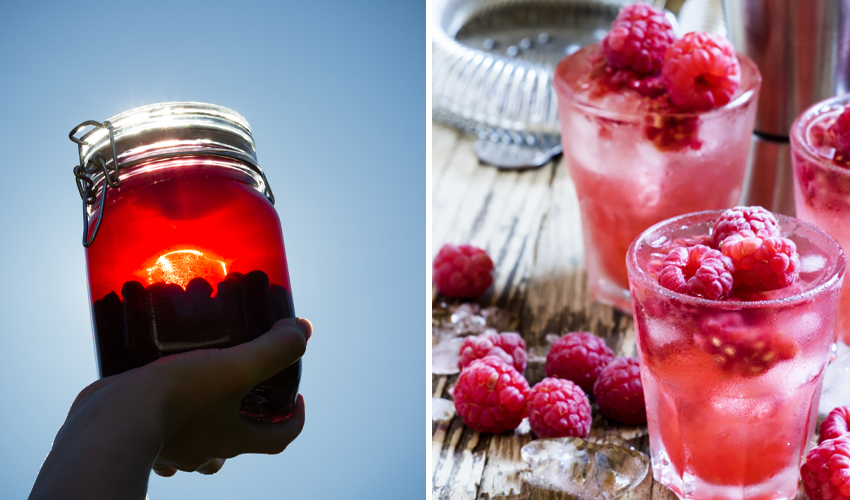 For best quality and flavour results use ripe produce and freeze the fruits until you begin. Freezing the raspberries ruptures the fruit skins and allows the juices to flow out, making for a tastier gin.
Ingredients:
400g raspberries (frozen)
300g white sugar
1 litre bottle of gin (good quality)
Method:
Tip the raspberries and sugar into a 1.5l sterilised jar.
Pour over the gin, seal the jar and swirl around to dissolve the sugar.
Cover and place in a dark spot for 4 weeks.
Turn the jar every day for the first week.
Stir it other day, or as often as you remember to.
After a month strain the gin through a sieve. Pour the gin into bottles, and label.
Use the leftover boozy raspberries in a pink gin and prosecco cocktail.
With this raspberry gin recipe, the gin will keep its gorgeous pink hue for a few months and will be drinkable for up to a year.
---
Homemade Cherry Gin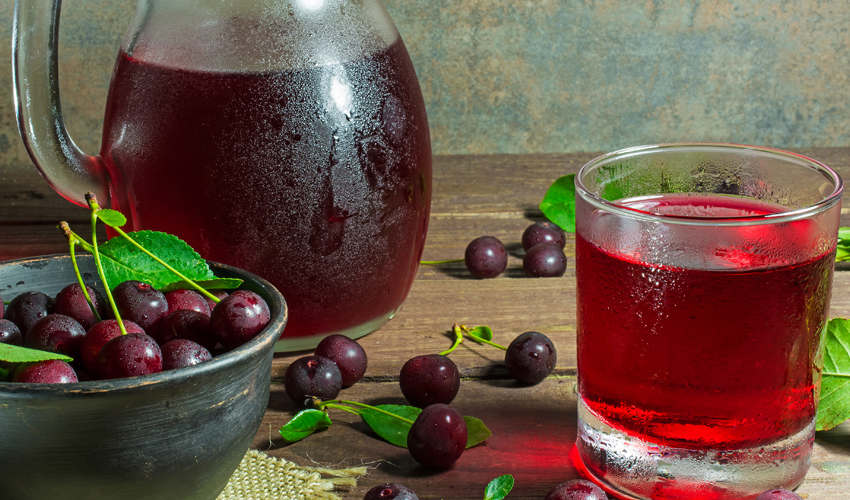 Morello cherries aren't the go-to cherry when eating raw but their deep sour flavour makes them perfect for infusing in jam, sauces and in this case, gin.
Fresh Morello cherries are quite hard to find in UK supermarkets. If you can't get them fresh then frozen ones will also work in a cherry gin recipe, and are much easier to pick up.
Ingredients:
450g Morello cherries
75cl bottle of medium quality gin
100g white granulated sugar
Method:
Wash Morello cherries thoroughly and discard stems and any bruised fruit. Place cherries in either a large Kilner jar or a wide necked 1 litre bottle.
Use a funnel to add the sugar and top up with gin to the rim.
Shake the bottle every day until the sugar is dissolved and then store in a cool, dark place for at least three months.
Strain and bottle ready to serve.
---
Homemade Orange Gin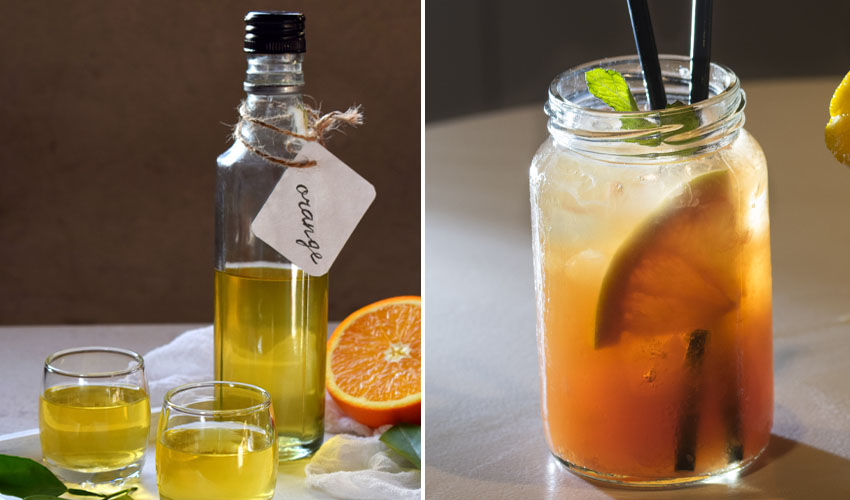 One of the hottest flavoured gins to emerge in time for summer, orange gin is both deliciously refreshing and oh-so-easy to make at home.
Surely you've heard about the benefits of citrus, but apart from being good source of vitamin C, it's undeniable that it's also pretty good on the taste buds.
Ingredients:
1 ltr gin
4 Seville oranges
150g caster sugar
Method:
Finely pare the zest from four Seville oranges (avoiding the pith) and put in a sterilised jar with 150g caster sugar.
Squeeze in the juice from one orange and stir in 1 ltr gin.
Seal, store the jar in a dark place and give it a shake every day for two weeks.
Strain the gin into another sterilised bottle and store in your drinks cupboard.
Serve in a tall glass with tonic water, plenty of ice and a wedge of orange.
---
Homemade Lemon Gin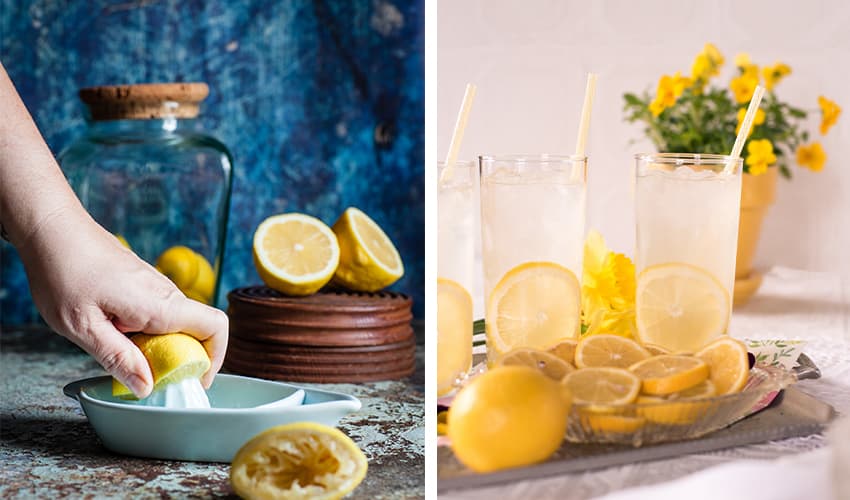 You don't need to spend loads on your choice of gin. Feel free to use any London dry gin that you have lying about.
Just make sure to use fresh, ripe lemons and definitely keep the peel as that's the focal ingredient to make this gin recipe. Then, just add your favourite tonic water and a bit of mint for garnish.
Ingredients:
1ltr bottle of medium quality gin – anything you're comfortable with using
200g white granulated sugar
3 unwaxed lemons (just the rind, avoiding the pith)
Method:
Make space in the bottle for the sugar and lemon by pouring off at least 200 ml of gin.
Gently pare the lemon rind from the lemon. Be really careful to avoid the bitter pith (at a pinch use a zester – although the results are not nearly as good).
Add peel to the bottle
Using a funnel add the sugar to the gin and shake well
Top up the bottle with the reserved gin. Find a use for the surplus (why not make yourself a cheeky G&T at this point?)
Label the bottle. Seal it well and place the bottle in your cupboard.
Let it sit for 3-5 days, but check on the third day and stir again.
By the fifth day you should have yourself a refreshing lemon gin to enjoy during a warm summer evening.
---
Homemade Elderflower Gin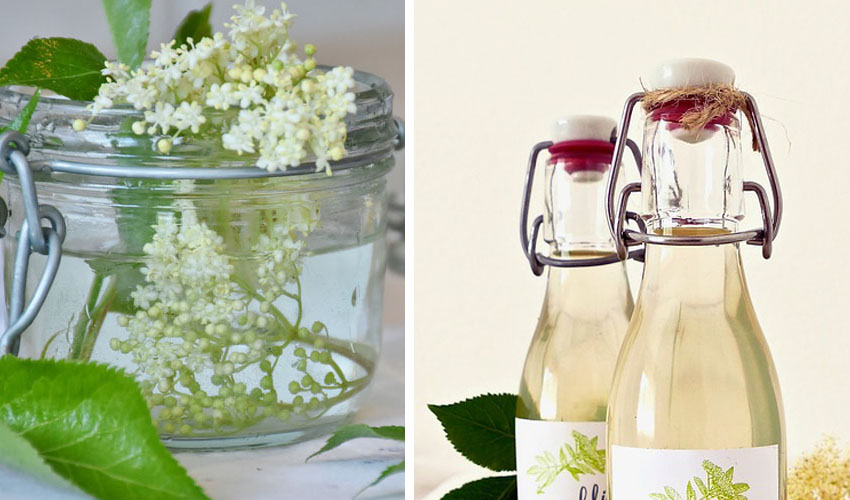 If you love the taste of elderflower, then you may already have discovered the wonderful world of elderflower gin.
To use, ensure you only use only edible part of the plant – the flowers and berries. Give them a shake to remove any insects and rinse briefly in cold water.
Ingredients:
700ml bottle of gin
Approx. 20 elderflower heads, woody stems & bugs removed
Zest of 1 lemon
4 tbsp golden caster sugar
Method:
Pour the gin into a sterilised bottle or jar.
Add the sugar and lemon peel, seal and shake well until sugar dissolves.
Open again and add just the blooms with no stems. Swirl gently.
Store in a cool, dark place for about a week. Give a gentle shake or swirl from time to time.
After 7 days, pour the gin through a clean tea towel to thoroughly strain. You could also strain through coffee filter paper or 2 sheets of kitchen paper into a clean bottle.
Return to the bottle and chill.
 Serve with tonic water, ice and a dash of sugar syrup if you like.
---
Homemade Plum Gin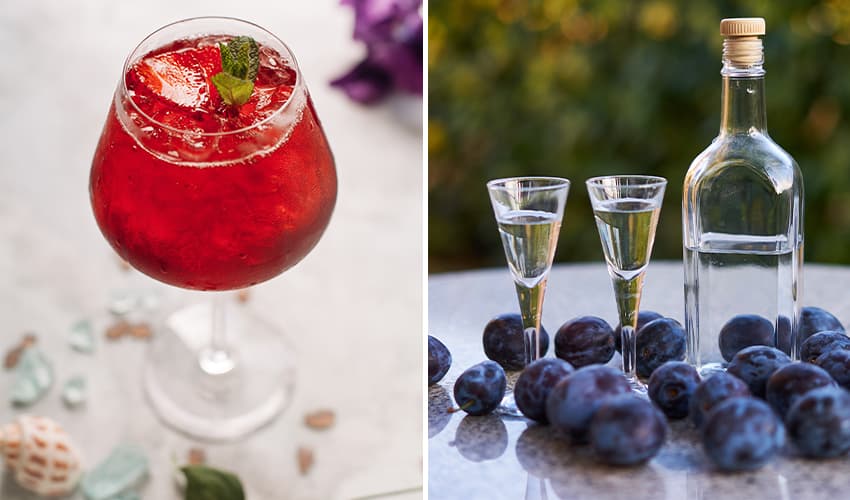 When the nights get darker and chillier, you know it's time to embrace a whole new taste palette. Fortunately, this delicious plum gin recipe is on hand to give you an easy way to make your very own.
Ingredients:
6-8 plums
8-12 blackberries
1/8 cup juniper berries
2 cloves
Zest from 1 lime
300 ml gin
300 ml water
120 ml simple syrup
Method:
Grate the lime to get the zest.
Combine juniper berries, cloves and lime zest and break up with a mortar and pestle. Place in a quart-sized jar.
Add the gin, sliced plums and blackberries.
Mix thoroughly. Then place over the lid and shake well.
Let it steep for 24 hours.
Strain out all solids with a fine mesh strainer.
Combine infusion with filtered water and simple syrup to dilute.
Stir, bottle and enjoy.
---
Homemade Sloe Gin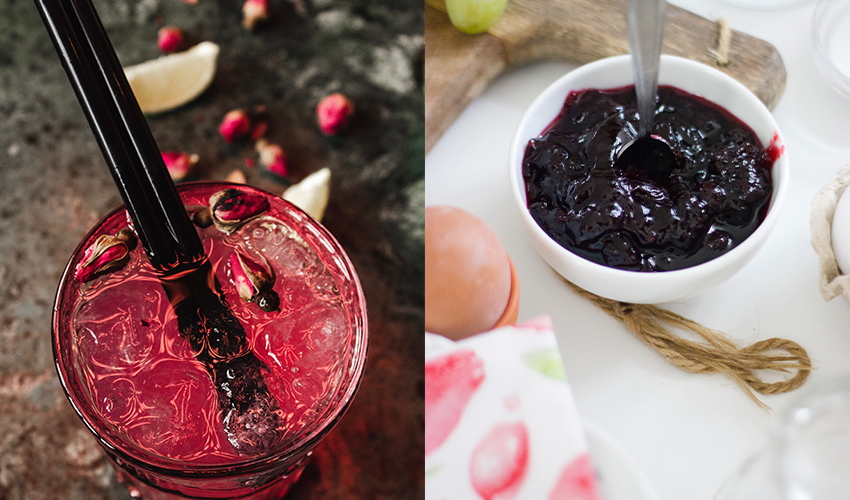 First things first, make sure that the sloe berries are ripe. If you squeeze them and they are hard as a rock that's a sign that they're not ready. Freezing your berries is a key step in making sure that the sloes rupture evenly as that will allow for the flavour to leak out while they're sitting in the gin.
Ingredients:
450g sloes (frozen)
225g syrup
1ltr of good quality gin
Method:
Using a cocktail stick or fork, carefully prick the sloes, then add them to the bottle. Add the gin before securing the lid on your bottle and giving it a firm shake.
Leave the bottle in a secure and top secret location. A cool, dark cupboard will be just perfect! After seven days, shake it to re-ignite the flavouring process.
Repeat this very scientific process for six long weeks (believe us here).
To complete, strain the sloe gin through muslin into a sterilised bottle.
Mix in the syrup and taste as you go to achieve the perfect amount of sweetness.
---
Homemade Spiced Gin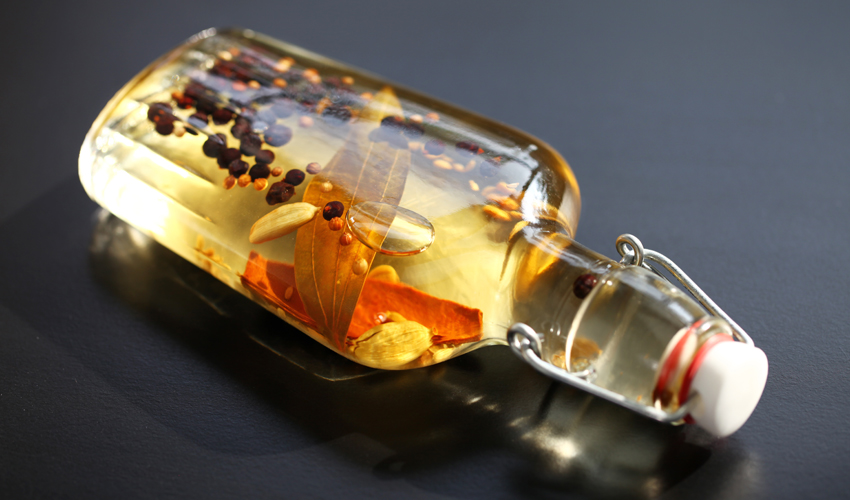 One week of infusion will be adequate to produce a flavourful spiced gin but if you want a more intense flavour simply leave the ingredients to infuse for longer.
Ingredients:
70cl gin (a basic London Dry is fine)
1 cinnamon stick
2 star anise
6 cardamom pods
8 cloves
Method:
Add all the ingredients into a 1l Kilner jar or similar.
Close tightly and place in a cool, dark space.
Shake the bottle gently every day for a week.
Within one week the gin should turn golden brown, indicating it's ready. Leave longer for a more intense flavour and colour.
Strain and serve.
---
Homemade Blackcurrant Gin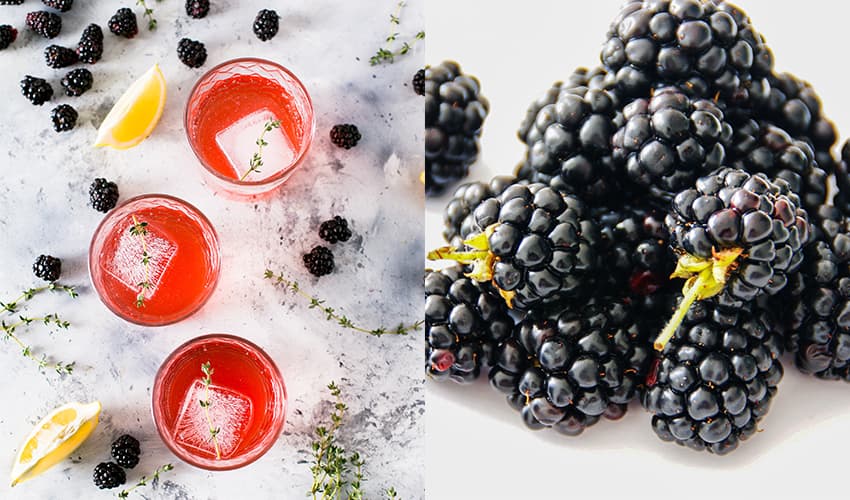 If you can't get enough of berry-infused gin, good news is you can actually make your own at home with this easy-to-follow blackberry gin recipe.
This recipe is ideal for any gin lover as it is simple and easy to make, requiring only three key ingredients.
Ingredients:
250 g ripe blackberries
70cl gin without complex combination of botanicals
110 g white sugar
Method:
Place the blackberries in a jar and cover with the sugar. Add the gin and give the jar a good shake. Place the jar in a dark place like a kitchen cupboard.
Give the jar a shake every so often over the next few days until the sugar has dissolved.
Leave to mature. It's drinkable within four weeks but feel free to keep it up to three months.
Strain the gin through a muslin cloth, try not to break up the blackberries. Pour the liquid into a bottle. If you think it needs it, add a little more sugar and shake until it's dissolved.
After four weeks, the gin should have a rich dark red colour. It still holds a boozy strength but with a fruity tone of the blackberries.
If you leave the gin for three months, it mellows and the full fruitiness of the blackberries comes through and it's smooth enough to serve over ice as a liqueur. Consider adding a cinnamon stick at the same time as the sugar for a spicy kick to your gin.
---
Homemade Cola Cube Gin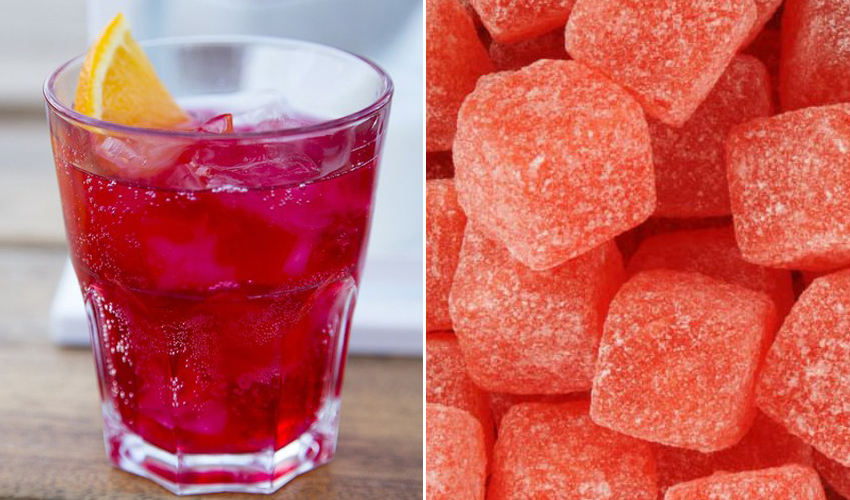 It couldn't really be any simpler to flavour your own cola cube gin using your favourite sweets. You don't need anything more than a basic unflavoured gin, cola cube sweets and a 1l Kilner jar or similar in which the gin will infuse with the sweet taste of childhood.
Ingredients:
70cl gin (a basic London Dry is fine)
200g cola cube sweets
Method:
Crush the cola cube sweets
Add the sweets and gin into a Kilner jar.
Leave sealed in a cupboard for 6-7 days until the crushed sweets have dissolved. Shake well daily.
Strain to serve.
---
Homemade Rhubarb & Custard Sweetie Gin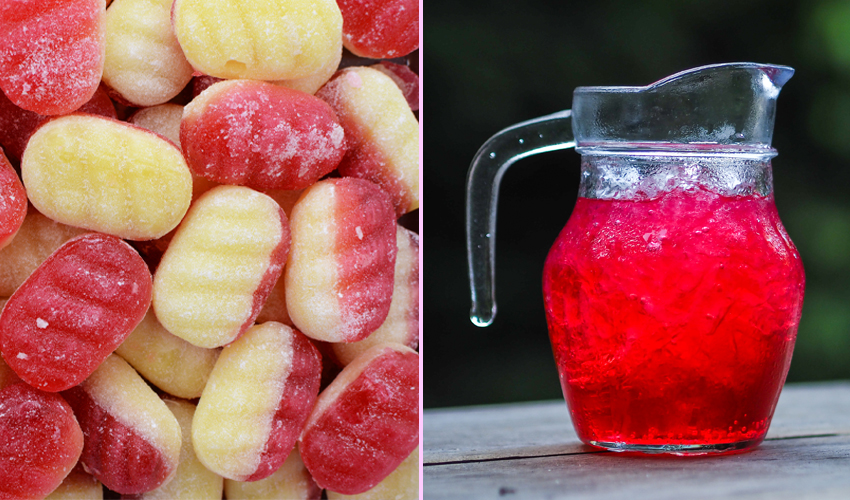 If you have a sweet tooth and a fondness for childhood nostalgia then we may have the perfect way to liven up your gin. Rhubarb and custard sweets were always a staple of 10p mixups but now you can enjoy them in the most adult of ways.
Ingredients:
70cl gin (a basic London Dry is fine)
200g rhubarb and custard sweets
2 rhubarb sticks
Method:
Chop the rhubarb roughly.
Add all the ingredients into a Kilner jar.
Leave in a cupboard for 4-5 days until you have the desired taste strength, shaking well daily.
Strain to serve.