When gin and cake, two of life's great comforts, come together, it's often a beautiful thing. This recipe, from Hello Cuppies, may just be one of the prettiest gin cakes we've ever seen.
Hello Cuppies is a fantastic food and travel blog and their recipe for a Gin & Pink Rose Lemonade Cake is so good it deserves to be shared with the world.
The recipe was made in partnership with Fentimans, a premium mixer that usually accompanies gin in a glass but finds itself here paired with gin in a glorious gin and lemonade cake.
If there was ever a cake to be baked for a gin lover's birthday this has got to be it!
Gin & Pink Rose Lemonade Cake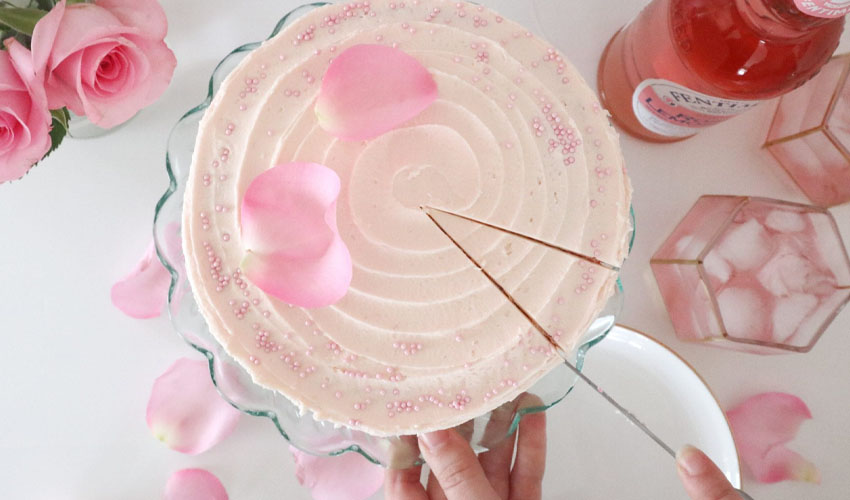 Ingredients:
270g caster sugar
270g unsalted butter (at room temperature)
4 large eggs
270g sieved self-raising flour
1 large splash of milk
20ml of Fentimans Rose Lemonade
20ml of gin
Pink food colouring
250g unsalted butter (at room temperature)
450g icing sugar
1tbsp of gin
1tbsp of Fentimans Rose Lemonade
Sprinkles or similar
Method:
Grease & line 3 x 6" round cake tins with parchment paper and preheat your oven to 180C/160C Fan/Gas 4.
Add the 270g butter and caster sugar to a bowl and beat until pale and creamy – this can take around 3-4 minutes
Add your eggs one at a time mixing each one until smooth.Add in the milk, gin and tonic and stir in slowly until combined.
Sieve your flour and add in two parts mixing until smooth.
Add some pink food gel, split the mixture equally into three bowls and add a little more to each one to create three different shades of pink.
Fill each tin and bake in the oven for 30-40 minutes – test the cake after 30 minutes, a skewer should come out clean, remember everyone's ovens vary slightly.
Once baked, remove from the oven and leave to cool in the tin for 30 minutes then transfer to a wire rack to cool completely.
In a bowl, mix together the icing sugar and 250g butter until pale and smooth.
Add the gin and lemonade and pipe between each layer and smooth around the top and outside.
Recipe created by hellocuppies.com.
For more baking recipes with Fentimans visit their official website.