The rise of pink gin over recent years has been sensational and a testament to its popularity is that it's being increasingly used as part of recipes.
In this latest creation from The English Drinks Company their signature pink gin is used to create a delicious Pink Gin and Rhubarb Parfait.
Fruity and sweet, the parfait is made with real fruit, sugar, cream and eggs alongside fresh rhubarb sticks. If it's out of season for the rhubarb then frozen rhubarb is fine.
How to Make Pink Gin and Rhubarb Parfait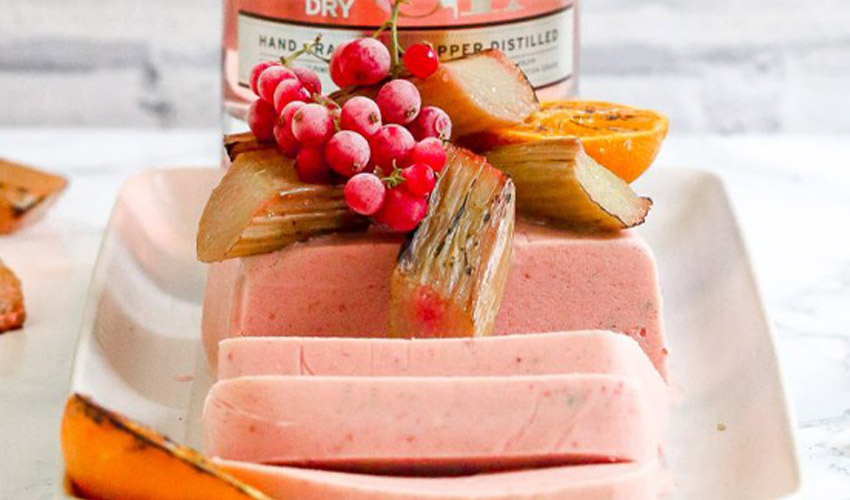 Ingredients:
4 sticks of rhubarb (if it's out of season use frozen)
250ml of double cream
100g caster sugar
2 tbsp soft brown sugar
3 egg whites
1 orange or 2 clementines
Method:
Cut the rhubarb into 3cm chunks and place them onto a baking tray.
Cut the oranges in half and add to the tray, before sprinkling with the brown sugar.
Roast the rhubarb in the oven for 12 minutes until tender, then remove half of them as well as the oranges and put to one side for decoration.
Return the remaining rhubarb to the oven and cook until soft, then remove and leave to cool.
In a separate bowl, whip the egg white and sugar to create light meringue.
In another bowl whip the cream to a soft peak.
Blend the roasted rhubarb and the Pink Gin, then pour into the cream.
Remove the whisk from the cream and stir in the rhubarb mixture using a spoon as you don't want to over whip the cream.
Fold the cream mixture and whipped egg whites together carefully making sure you don't over mix as you will lose the air.
Pour the parfait into a loaf tin lines with two sheets of cling film, before placing in the fridge give the tin a few taps to make sure all the filling has filled the gaps.
Freeze for at least 3 hours before slicing and serving with the remaining roasted rhubarb and orange.
You can also add a final little splash of Pink Gin on top of the parfait and fruit to lift the flavour.
The English Drinks Company Pink Gin is available to buy from The Gin Kin Shop priced at £35.