Now that the season to laze in the back garden drinking gin is approaching, it makes complete sense to have a homemade gin and tonic bar.
It's a simple idea but done well it can totally transform a garden, creating a centrepiece that will be a big talking point. Not to mention being a people magnet.
Our ideas include upcycling pallets, old furniture, and repurposing garden tables to function as a gin bar which cost next to nothing.
We hope you'll feel as gin-spired as we do after checking out these ideas.
Pallet Gin Bar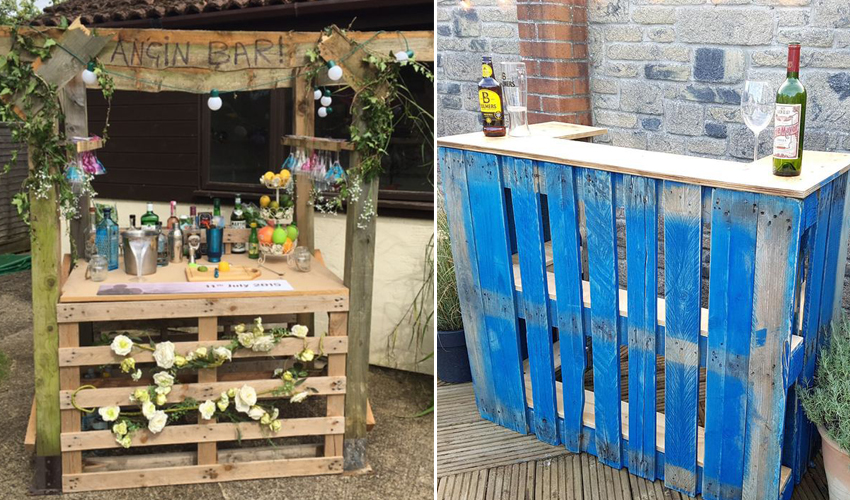 You don't need Homes Under The Hammer level of DIY skills to knock up a fabulous shabby chic home made gin bar. And doing it this way can cost next to nothing.
Upcycling and stacking wooden packing crates can act as the main body of the bar. On top, securing a plank of wood will become a rustic-looking bar surface.
Adorning with bunting, flowers and twinkling fairy lights can all elevate the cuteness factor and make it look extra special at night time.
---
Potting Table Gin Bar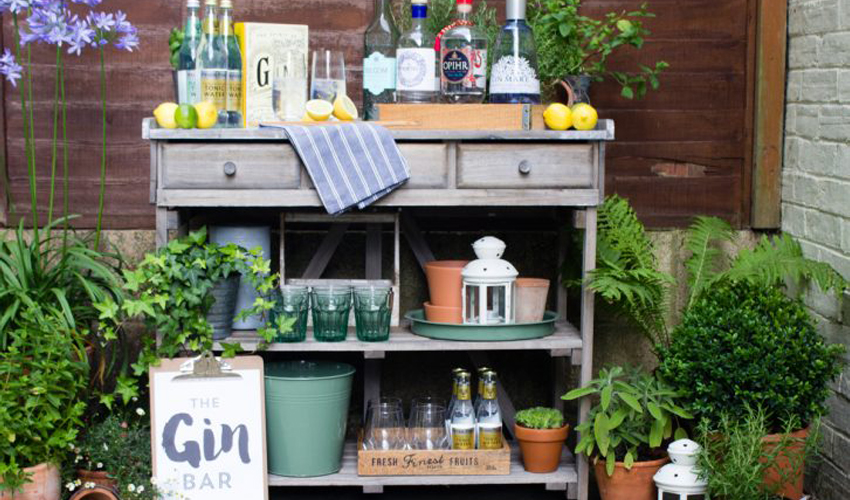 The practical purpose of a potting table can either be changed or combined with the idea of turning it into a gin bar. It's a great start as it's a decorative counter with plenty of storage for bottles and glasses.
We actually like the idea of keeping some of the space for its original design purpose. This means it will match the green surroundings, the very definition of a 'garden gin bar'.
How about going even further with the merging of the two ideas and growing and storing your gin garnishes alongside your bottles. Mint, rosemary and lavender will all grow happily in the garden, patiently awaiting their destiny.
Image: Orchard Blog
---
Upcycled Furniture Gin Bar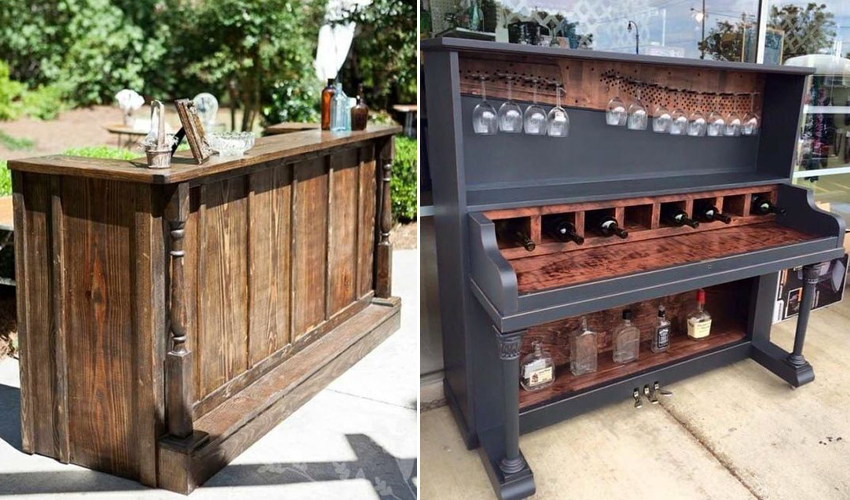 Every so often we have these big cumbersome pieces of furniture that just don't belong any more. They can seem like real burden, particularly if they are hard to move. Upcycling rather than disposal may be the answer.
An old bookcase or shelving unit that is past its sell by date could be moved into the garden, turned on its side, cleaned up and be given a new lease of life as a garden gin bar. With the shelving already there it's crying out to be filled with bottles of gin and glasses.
Or how about the elephant in the room – the piano that no one plays. With a bit of reconstruction and a paint job it could be transformed into a real feature piece. It's certainly one of the classiest home made gin bars we have come across.
We're definitely feeling inspired. Upcycling is a fantastic way to get creative and it saves money which you can then choose to spend on more gin for the bar should you wish!
Images: Pinterest